We are continuing work with the Photographers Association of Malindi to enhance their expertise in photography and the business aspects of photography. Our efforts also extend to assisting them in growing their membership and establishing a strong online presence through a range of photography-centered projects. With support from Baraza Media Lab, this program strives to narrow the divide between creative individuals in rural and urban areas. By offering insightful workshops, we aim to empower rural creatives, fostering skill development and knowledge enrichment.
Over the weekend, we had an engaging workshop conducted by Pau Shinski (an established Product Photographer living in Nairobi), where he covered the basic principles of photography. He talked about such things as the types of cameras and what they do, types of lenses and what they produce, the exposure triangle (ISO, Aperture and Shutter Speed), framing and how the quality, quantity, direction and shape of light affects the images one gets. Importantly, he emphasised the need for one to constantly stimulate their creativity through seeing what other photographers are doing and experimenting.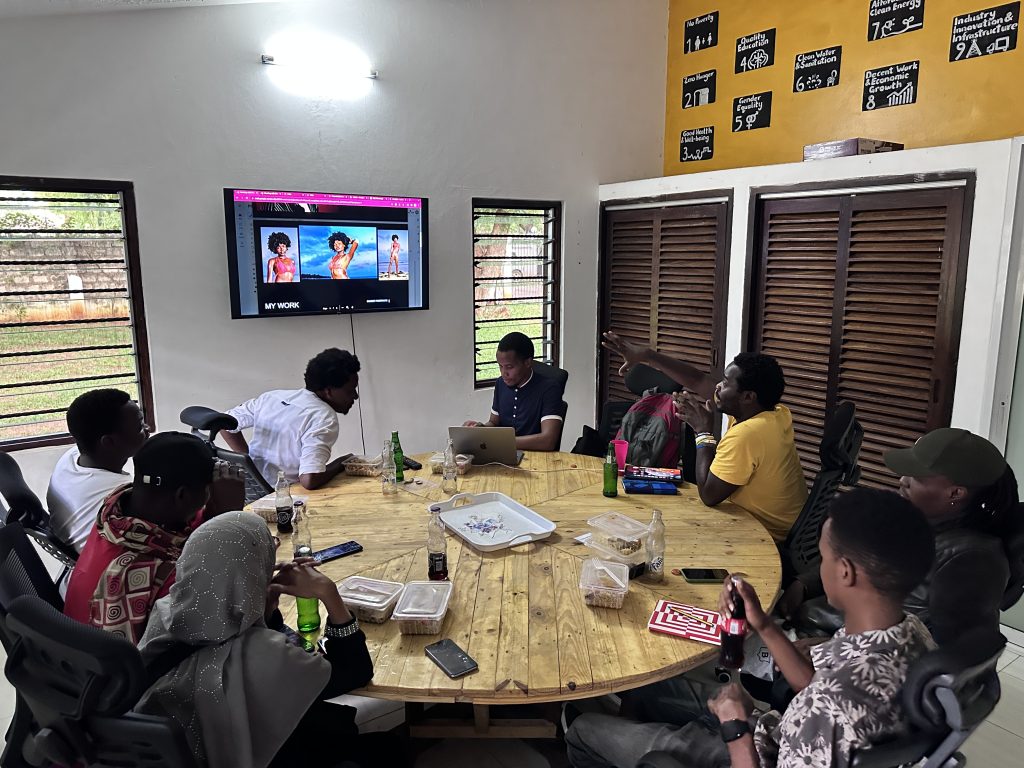 Come back up for this one. 
During the workshop, Pau looked at the photographers' profiles and portfolios. In a previous workshop in June, the Association's members learned about personal branding. They were asked to create portfolios and profiles that attract clients. In this review, Pau checked each photographer's profile and portfolio, and guided them to make changes or additions would enhance them.
We also had the opportunity to look at some of the photos from each of the photographer who participated in the Associations' first ever photowalk, done on July 30th. Everyone commented on each other's work, with Pau offering his professional view. " My profile had few changes… just a bit of formatting and it is all good." Said one of the photographers, adding that, "It is encouraging to see your work liked by an experienced person like Pau". The Association resolved to identify 10 good photos that it shall print and mount as a showcase of its work. Additionally, the printed photos shall be used as part of a the Association's launch that is set to happen in November 2023.
We are proud to be able to come this far with the photographers. We hope that this program makes them better photographers, better business people and better individuals. Education and mentorship has worked before in the world, and we know it will work now to uplift and empower creatives in rural areas.
We extend our gratitude to Pau Shinski for sharing this time and walking with this initiative. Additionally, we thank Baraza Media Lab, without who this Program would not happen. Together, we can ensure that no creative is left behind.
---
Stay tuned for more updates on the Kibaraza program. We welcome any ideas that you might have on how we can scale this program up — please share in the comments section below.